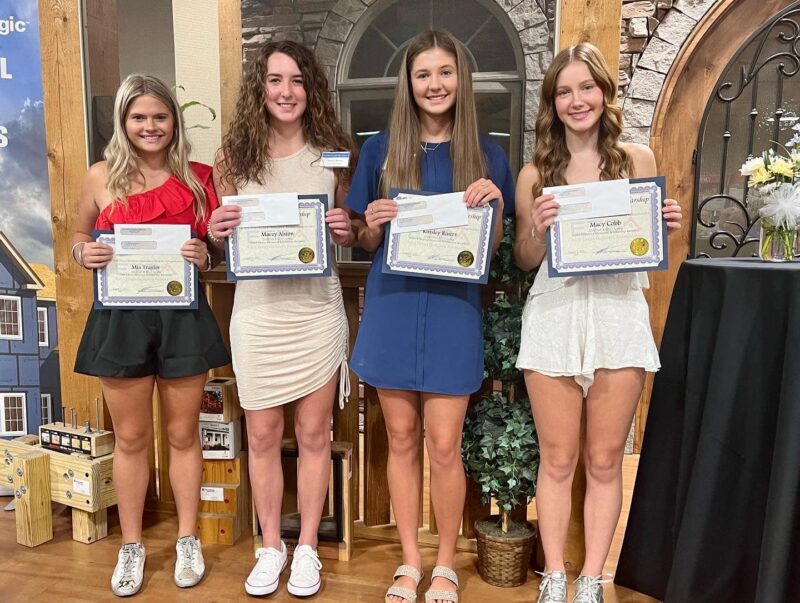 The scholarship application deadline is June 20, 2023 for the 2023 Fall & 2024 Spring semesters.
Download the 2023 Scholarship Application here.
Builders Association Presents Scholarships
The East Texas Builders Association (ETBA) proudly recognized and awarded eleven scholarship recipients at the August 2nd dinner at Cassity Jones Building Materials. ETBA expressed their appreciation to Cassity Jones Building Materials for sponsoring and hosting this annual dinner.
During the dinner, ETBA Executive Officer- Angela Daughtry announced the newest recipients and Scholarship Chairman- Bryan Robinson presented certificates and checks to those present. The 2022/2023 recipients were Macy Cobb, Kinsley Rivers, Emma Cross, Landon Davis, Jaycie Bradley, Kylie Pepper, Katelyn Jester, Daniel Littlejohn, Darbi Wyatt, Macy Alston & Mia Traylor.
The ETBA member companies that are represented by each of these recipients and: Austin Bank, Cassity Jones Building Materials, B & L Cabinet and Supply, Red River Brick & Building Materials, Eastman Credit Union, East Texas Homes, Martin Marietta, Tessa Bradley Custom Homes, National Wholesale Supply, Andrew Traylor Custom Homes and Bockmon Knight & Traylor Insurance.
The James Kilpatrick Scholarship Fund was established in 2002 in memory of Mr. Kilpatrick, a long time builder member of the Association and ETBA President in 1992. The Kilpatrick Scholarship funds are generated through ETBA's annual Sporting Clays Tournament.
The James Varner Memorial Scholarship was established in 2012 in memory of long time ETBA builder member, James Varner. Chairman Robinson recognized the Varner family members that were present to witness the tenth James Varner Scholarship being awarded. The funds for this scholarship are raised through private donations and only one Varner Scholarship is awarded each year. The recipient is usually pursuing a career in the building industry and the recipient's name is displayed on a plaque in the Board Room at the ETBA office.
The newest memorial scholarship was established in 2022 in memory of Mr. Sam Clark, a long time builder member of the Association and ETBA President in 1999 and 2008. The Sam Clark Scholarship funds were generated through memorial donations.
The East Texas Builders Association has awarded a total of $187,000 in scholarships since 2002. This would not be possible without each and every partner, supporter and sponsor.