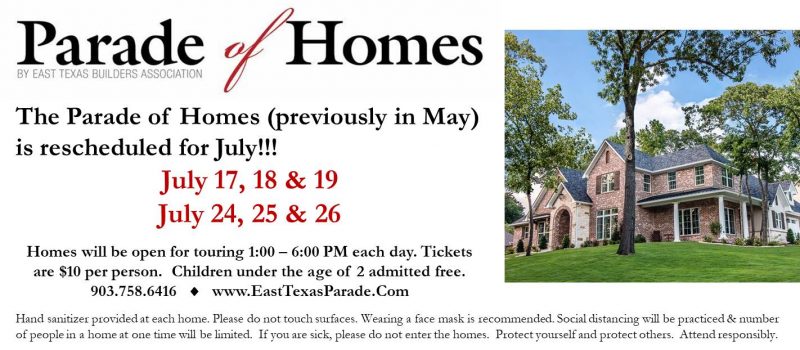 Each Spring & Fall, the East Texas Builders Association along with several builders in the East Texas area, showcase houses that the public can view. Due to State & Federal Government health concerns, the 2020 Spring Parade of Homes was postponed and has been rescheduled for July 17-19 & July 24-26.
Homes will be open for touring 1:00 – 6:00 PM each day.
Tickets are $10 per person + 0.30 processing fee.
Children under the age of 2 admitted free.
Click here for a printable list of Parade Homes
Health & Safety Warning: Hand sanitizer provided at each home. Please do not touch surfaces. Wearing a face mask is recommended. Social distancing will be practiced & number of people in a home at one time will be limited. If you are sick, please do not enter the homes. Protect yourself and protect others. Attend responsibly
Parade Home #5 is not available for the tour. All other pictures in the slide below can be clicked on to get more information .