Support a worthy cause… Ticket proceeds benefit the building of a home for a local wounded Veteran! Each ticket is eligible in all 50 drawings!!! This fundraiser in 2020, allowed ETBA, OFH & NETHFH to do a critical repair for a local Veteran in 2021. We established running water, septic, electricity, a driveway, appliances & much more to make her home live-able.

DRAWING RULES & GUIDELINES
Date & Time: June 30, 2022 @ 6:00 PM (Social @ 5:30PM)
Location: The Event Center on Alpine / ETBA
Address: 2023 Alpine Rd., Longview, TX 75601
Only the person named on the ticket may claim the prize.
Individual named on ticket must pass NCIS background check.
Must be 21 years or older to win.
Drawing for all 50 guns will be done on June 30th, 2022.
One ticket will be good for the entire drawing.
Ticket holder must claim gun stated for the order it was drawn. No substitutions. Do not have to be present to win.
Winner has ten (10) days from the date of drawing to claim prize.
Three (3) attempts will be made to notify the winner.
Any unclaimed prizes will be donated to the OFH East Texas Home Project.
Any charges, fees, or miscellaneous expenses beyond the cost of the gun will be assumed by the winner, including any taxes, as applicable.
Click Here for Printable Copy of the Winners
All Winning Numbers will be posted the day after the drawing on Facebook and www.easttexasbuilders.org
 2022 Gun Raffle Winners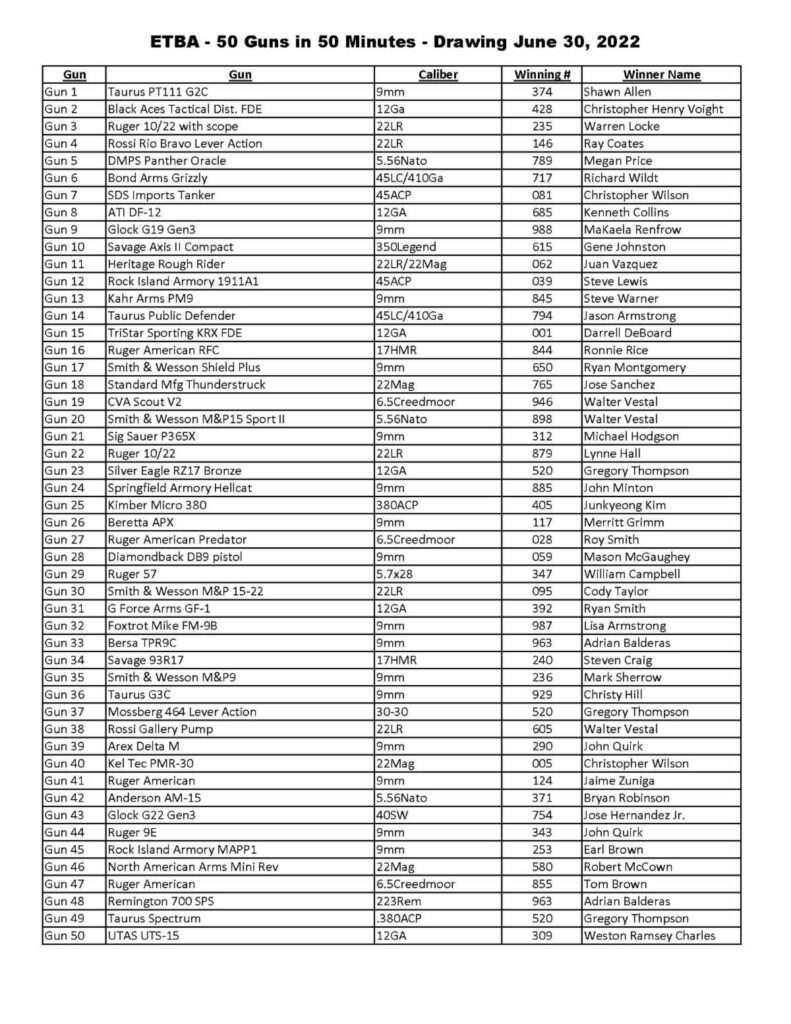 8: ATI DF-12 12Ga